High Output Used PP PE Woven Bag Plastic Film Agglomerator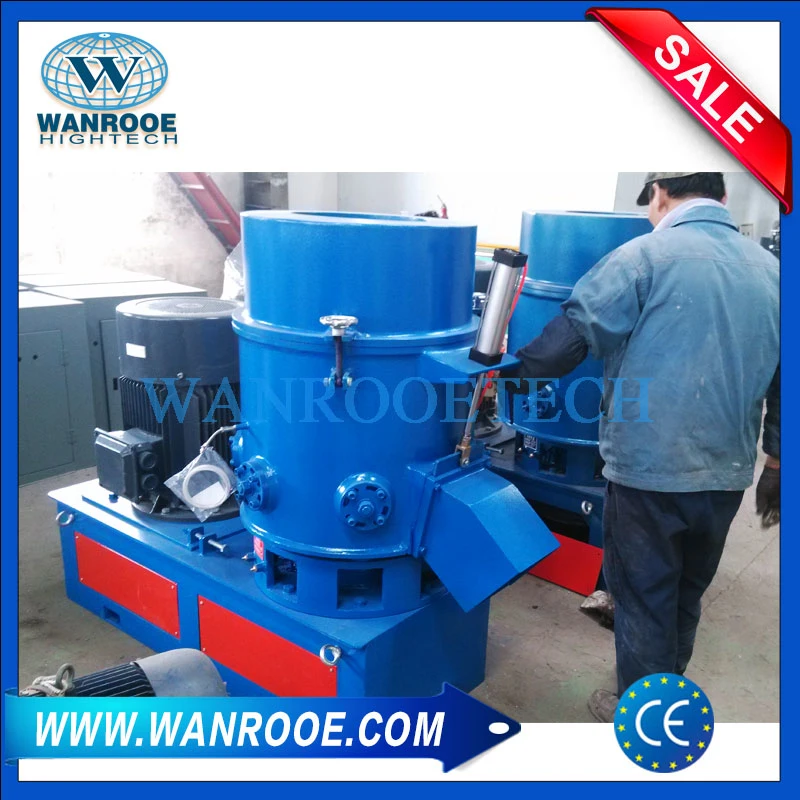 Description:
The agglomeration machineis a kind of waste thermoplastic thin films, and wall thickness is less than 2 mm of products can granulated immediately. It can be wastes or thin film of soft polyvinyl chloride (PVC), high and low pressure polyethylene, polypropylene and polystyrene, other thermoplastic plastic on aggregate, also on foaming polystyrene abandoned products for granulation.

Features:
1.Used for changing PE, PP film/bags into agglomeration granules.Plastic Agglomerator will be recycling a waste of the plastic film and wall thickness of less than 2 millimeters products direct granulation equipment.
2.It can make granule for soft PVC, high-low pressure polyethylene, polystyrene, thermoplastic polypropylene plastics and other waste products, or the films, also be of granulation for the abandoned polystyrene foam products.
3.The main shaft is metal processed after being heat-treated and adjusted straight and this machine is of low noise but high output, with the removable blade as the fixed blade, resulting in convenient repair and maintenance.

Working Principle:
Putting the waste into machine pot body make the material be quickly cut by the high speed rotating turn the blade and the fixed blade shear ,then the material along the pot body wall by the knife dish centrifugal force function ,at the same time, the material turning up and down by paddle and from all around to move towards to the center of the pot body. The friction of material itself and friction of pot wall and blades produce much friction heat under the high speed, making the materials temperature rises to the half-plastic condition and connects to small lump. Before the materials will block, advanced preparation quantitative water will all spray to the material. The cold water touch the hot materials will gasify and take out the surface heat soon , making the surface of the materials cool quickly and avoid blocking, then after crushing effect between rotary blade and fixed blade to cut into particles(irregular size materials). During the crushing, Also may join the appropriate color pigments according to needs.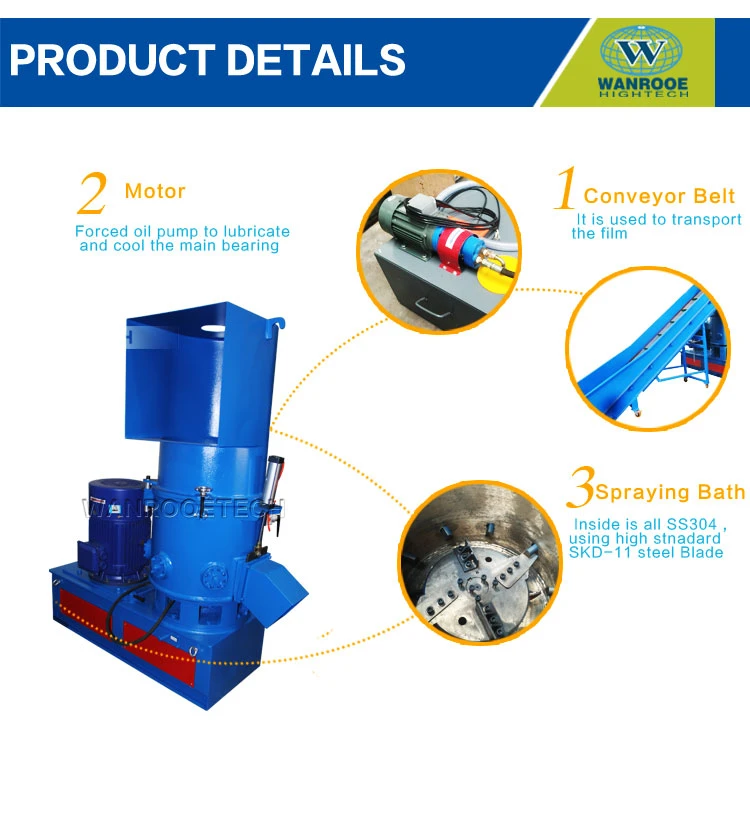 Technical Parameters:
| | | | | | | |
| --- | --- | --- | --- | --- | --- | --- |
| Model | PNAG-100 | PNAG-200 | PNAG-300 | PNAG-500 | PNAG-600 | PNAG-800 |
| Volum(L) | 100 | 200 | 300 | 500 | 600 | 800 |
| Output(kg/h) | 100 | 150 | 200 | 300 | 400 | 550 |
| Fixed and Rotating Blades QTY | 2+6 | 2+6 | 4+8 | 4+8 | 4+8 | 4+8 |
| Main Motor(kw) | 37 | 55 | 75 | 90 | 90-110 | 132 |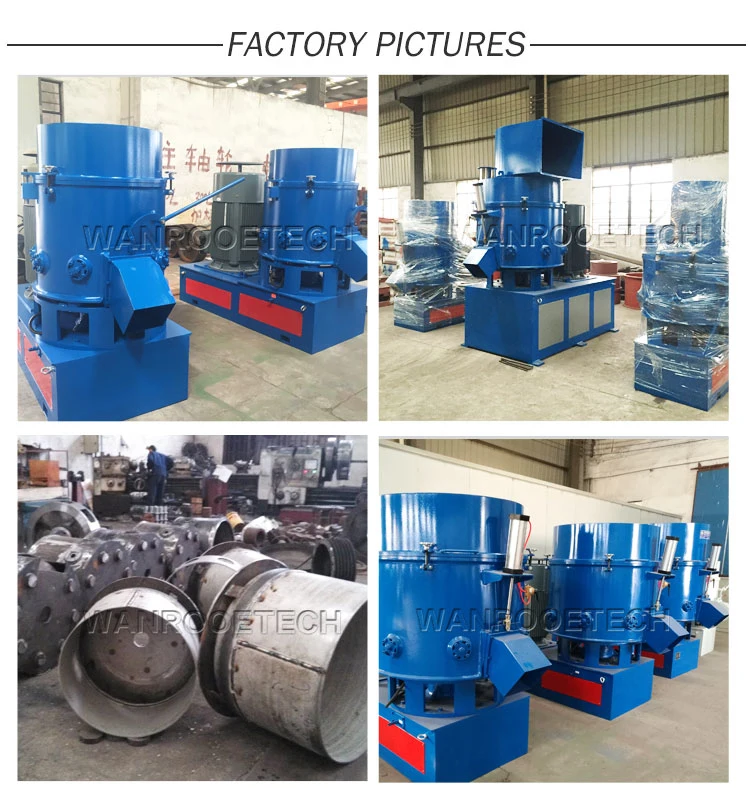 Our Service
1. One year guarantee for whole machine
2.24 hours technical support
3. Our engineers can provide service overseas. The service is free, but the charge of round air-tickets, food and hotel is to the customer's account.
4. After a year, we can instruct you how to maintain the machine, and spare parts are provided with the best price.
5. We also can provide training service which help operators handle the machine well