3000kg/h Recycling Plastic Bag/Jumbo Bag / Woven Bag/Ton Bag Shredder Machine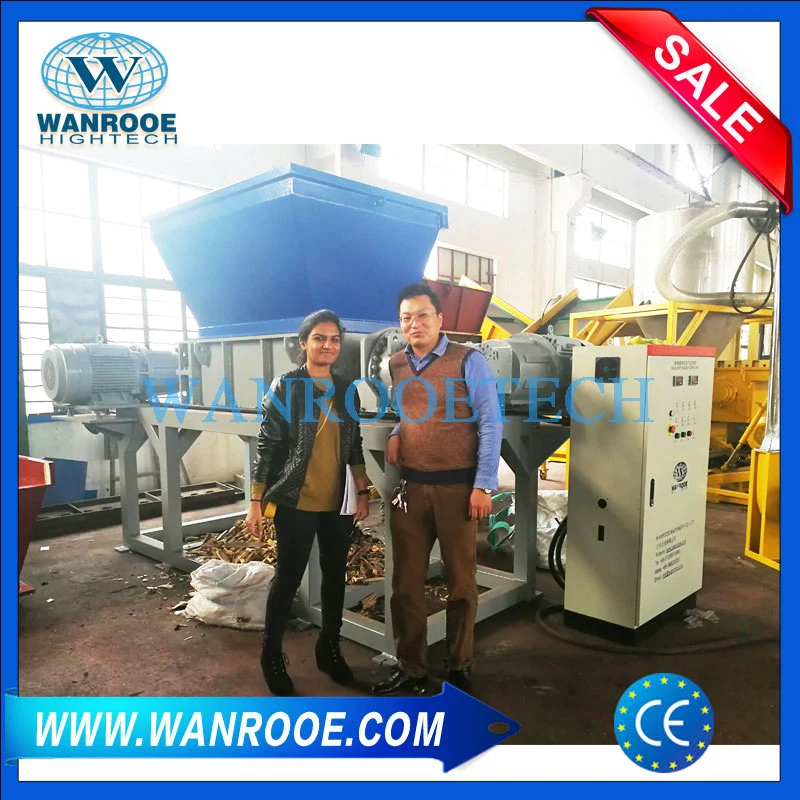 Application Areas:
The shredder machine can easily pre-crush:
1.plastic sheets;
2.electronic waste;
3.scrap (components, subassemblies; consumables);
4.metals(lead, aluminum, copper, cable, barrels, sheet scrap, sheet metal pieces left over from production processes);
5.aluminum cans;
6.wood(wooden pallets or fruit boxes);
7.plastic(plastic bottles or canisters);
8.waste tire, rubber;
9.waste household appliances;
10.paper waste (cardboard, newspaper, office paper, books, magazine, kraft paper, paper core, cardboard tube, paper packaging material);
11.textiles (rags, garments, carpet);
12.animal bones and organic waste.
Brief Instructions of Plastic Barrel Shredder:
WANOOETECH's PNSS series Shredders are used for pre-crushing of materials like plastic barrel, plastic drum, plastic bottle, PP woven jumbo bag etc., which are hard to crush using common granulator. The Pre-crushed materials can increases granulator's capacity, life time of granulator's blades. Our Shredder is equipped with SIEMENS PLC intelligent controlling system, it has the features of automatic stop, reserve direction run and alarming functions in case of possible material block, metal escape or overload.
The PNSS series plastic shredders and PNSC series strong crusher machine can compose a shredding system, they can meet any customers plastic size reduction requirement from 4mm to 50mm. If necessary, using our PNHS series plastic pelletizing line, customer also can make the recycled grinded plastic chips into plastic granules, which can be used in much more field. Here, WANROOETECH can supply you turn-key solutions plastic recycling solutions from waste dirty plastic to clean high quality recycled plastic granules.
Technical Features:
1.Our shredders can be employed as either a primary or secondary shredder and can be seen working anywhere from the waste management company to biofuel producers;
2.Dual shafted, slow-speed, high-torque waste shredder with hardened steel cutters;
3.The two cutting rotors powerfully grab the feed material, and no matter the feed material is large piece of hard plastic or heavy tires, this machine can easily shred them into small pieces;
4.Double shaft shredder is able to process a number of different materials;shredder is designed with a powerful engine, long working length and aggressive input,Internal feeding volume bigger than traditional and common single shaft shredder machine and allow you using forklift truck to feed.
5.Heavy structure: the frame and structure of our shredders are made of high-thickness sheets and tubular. Blades are manufactured from high quality steel, suitable for shredding tough materials and for extra long life;
6.Depending on requirement, these discs (blades) are available in a wide range of quantities, qualities and shapes with the new double-shaft shredder;
7.Any overloads caused by foreign material are sensed by the PLC controller and cause the shaft rotation to stop and reverse direction to clear the foreign matter, and then resume;
8.Cutters removal and replacement can be carried out safely and simply.
9.Our shredders Use a planetary reducer, not a traditional gearbox, and the planetary gearbox has the following advantages:High Efficiency,Greater Stability,Compact Size,Higher Torque Density,Cost Effective Precision,High Radial Loads.
Versatility
Some plastic shredders lock you in to doing it only on way. Our shredders have dual hex shafts and various knife designs that can be easily reconfigured to alter the shredding process to yield any desired output. We offer a large array of easy-to-install bed screens that can be used to qualify the shred size if desired.
The knife widths can be from 3/8" wide to 2" wide. The knife width, tooth size, and tooth count can be configured for processing varisous types of materials.
Rugged Design
To show the heavy design of these shredders, see this photo a MS4220 shredder being serviced. The tail end chamber plate has been removed for routine service and you can see the rugged dual shafts, shredder knives, spacers and an inside view of the cutting chamber
.
Reliability
Jordan Reduction Solution shredders have been serving the needs of recyclers and other plastic processors and extruders for over 75 years, making us one of the oldest shredder manufacturers in the U.S. We have many machines in the field still serving various industries that have been in operation for more than 30 years-and still running.
Custom Designed Plastic Shredder Systems
From small, hand-fed operations to complete systems, we can help in the design your entire plastic recycling or shredding needs. We specialize in custom, application specific systems from several hundred pounds to several tons per hour.
Give us a call and let our staff help you determine the most economical solutions for your plastic shredding needs. Also, visit the shredder videos page to see more of these machines in action.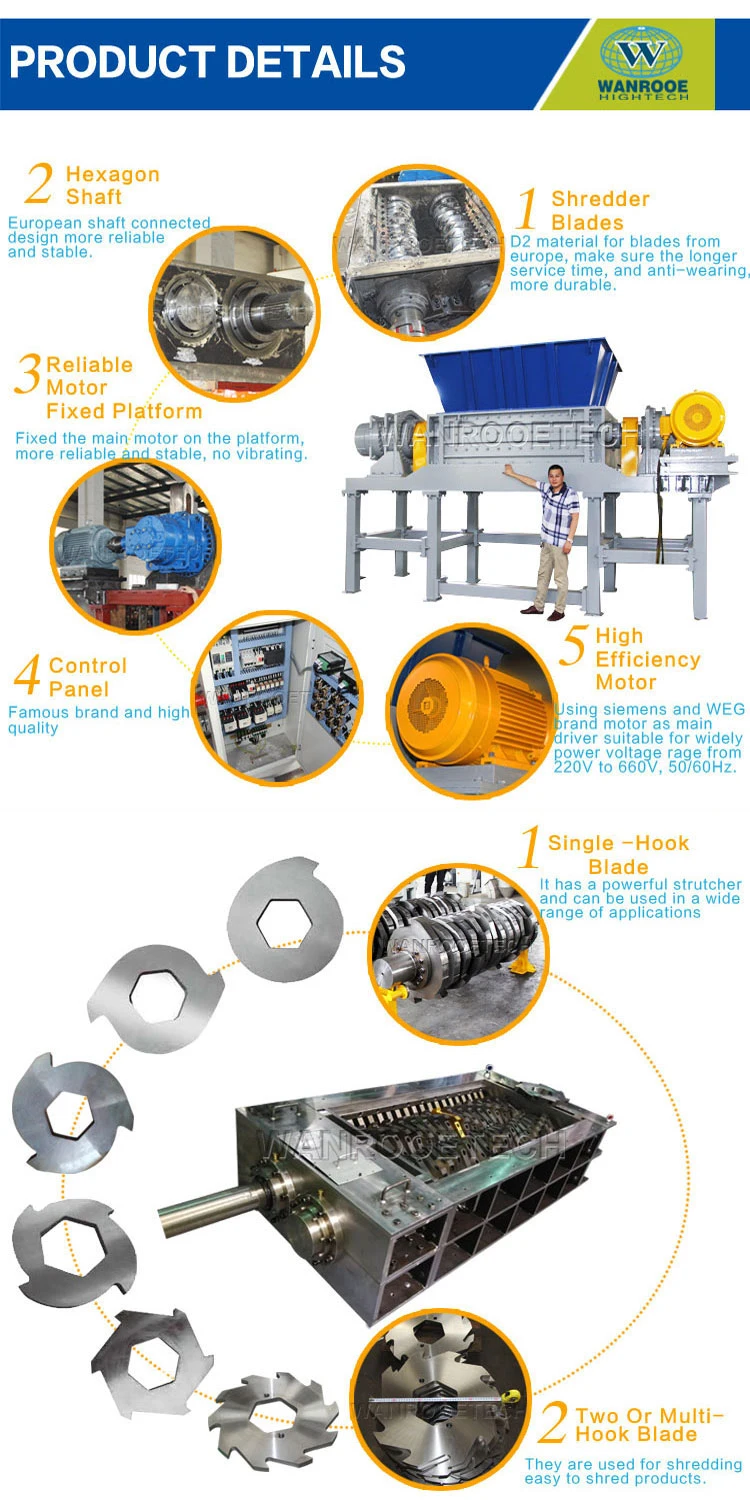 Technical Parameters
| | | |
| --- | --- | --- |
| Model | Shredding Motor Power(kw) | Shredding Chamber size(mm) |
| PNSS-300 | 7.5 | 510*300 |
| PNSS-400 | 7.5 | 510*400 |
| PNSS-600 | 7.5+7.5 | 510*600 |
| PNSS-800 | 18.5+18.5 | 600*800 |
| PNSS-1000 | 22+22 | 800*1000 |
| PNSS-1200 | 30+30 | 1000*1200 |
| PNSS-1400 | 55+55 | 1400*1200 |
| PNSS-1600 | 55+55 | 1600*1200 |
| PNSS-1800 | 75+75 | 1800*1400 |
| PNSS-2000 | 90+90 | 2000*1400 |
Factory Show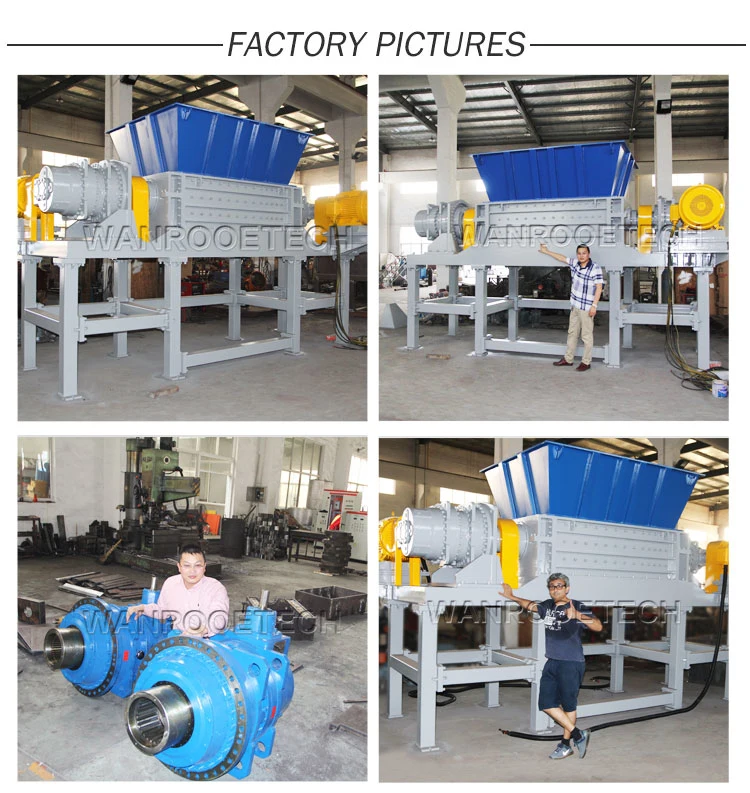 Company Information