PE LDPE HDPE film and PP Woven Bag Plastic Granulator with Compactor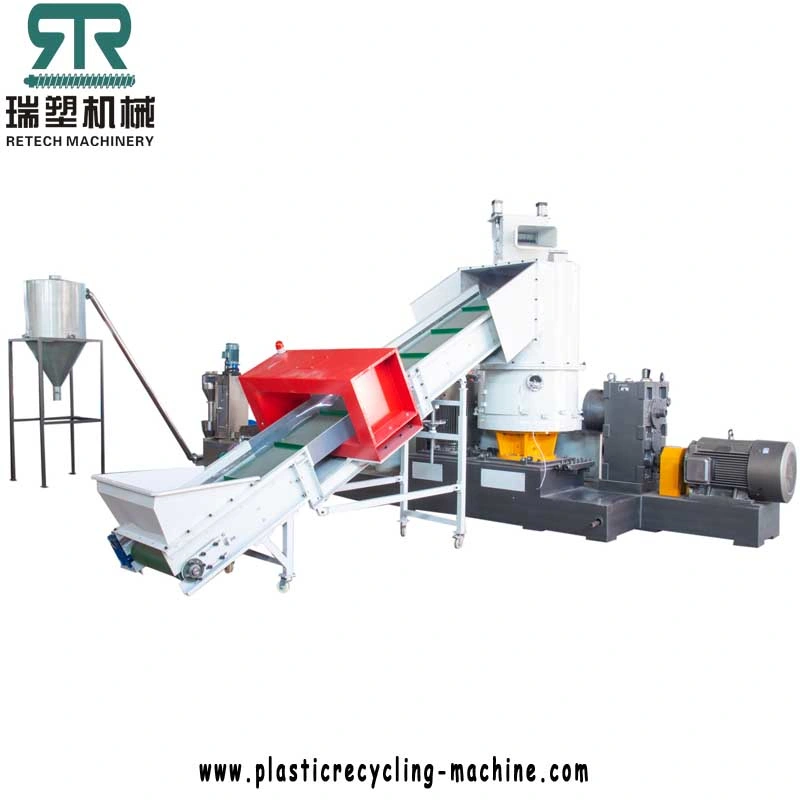 * Applications/Use:
1).
This type of recycling machine is fully automatically pelletizing production line,it combines feeding-crushing-melting-pelletizing in one step,you can option with or without vaccum degassing according to the nature of plastics. The pellets cutting way is also optional by water ring cutting or noodle cutting.
2).
With filtration system to stop the dirts, you can choose one layer to 5 layers nets to clean pellets. By the new designed filter syste, it do not need stop the machine while changing nets. The big area net design will ensure the long time for changing nets.

It can be process:
LDPE Film/Bags
HDPE Film/Bags
LLDPE films/Bags
PP Woven Bags/Jumbo Bags/PP films
PS/EPS/XPS/EPE/XPE Sheets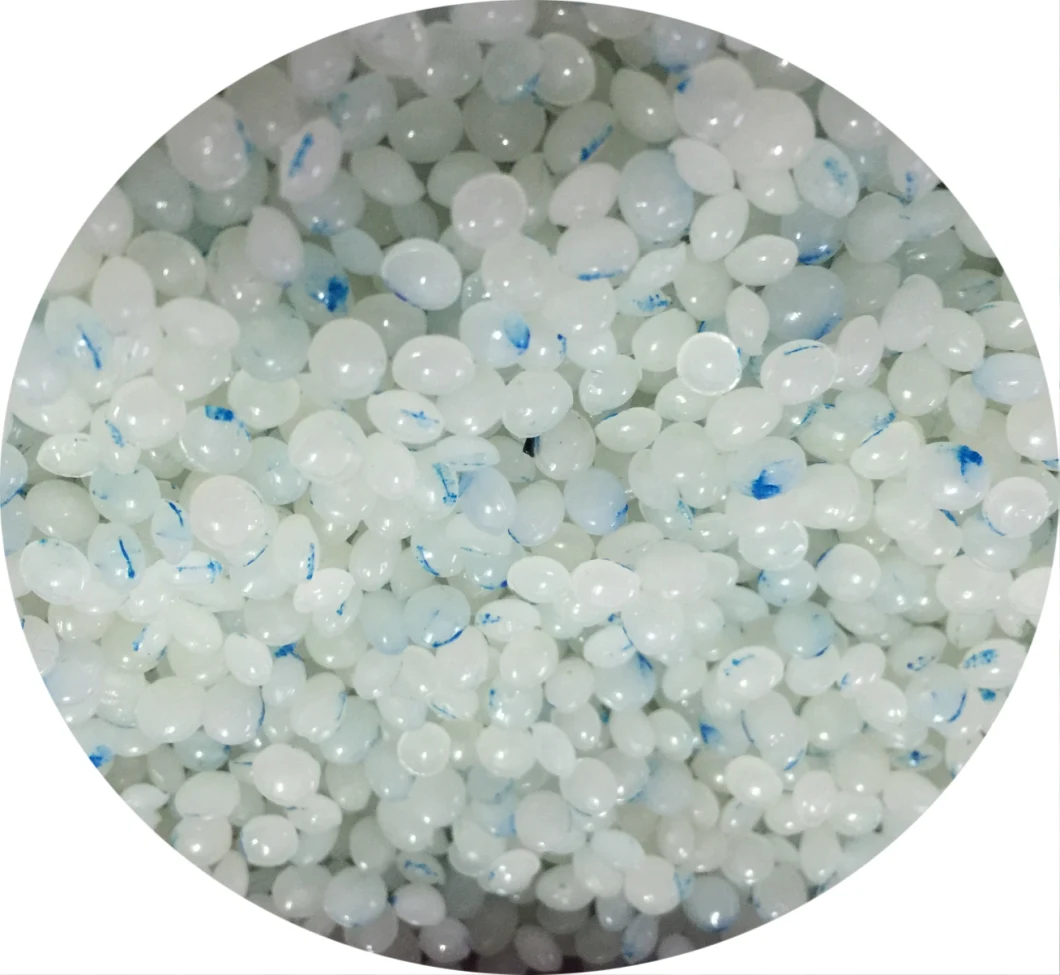 * Features:
1. Compared with the primary design, the output of RETECH film granulator machine has been increased 20%.
2. Low power consumption
The power consumption reduced 15% compared to the primary design.
3. Highly automatically,
Only 2 people needed to operate.
4. Compared with other extruder,two stage bopp pelletizing line achieves better degassing and filtration performance, get excellent pellets.
5. Extruder cover:more safety operation,make your workers keep away from danger.

* Machine's diagram:
Belt converor+metal detector → compactor → extruder → hydraulic screen changer → die head → cutting system →vibration sieve→dewatering machine→ air transmission → silo→electric control cabinet with PLC.

* Photos in details:

1. Moving cuts in Compactor.



2. Fixed cuts around compactor.


3. Vaccum degassing system


4.Filter system to stop dirts.


5.Final Pellets in Good Quality.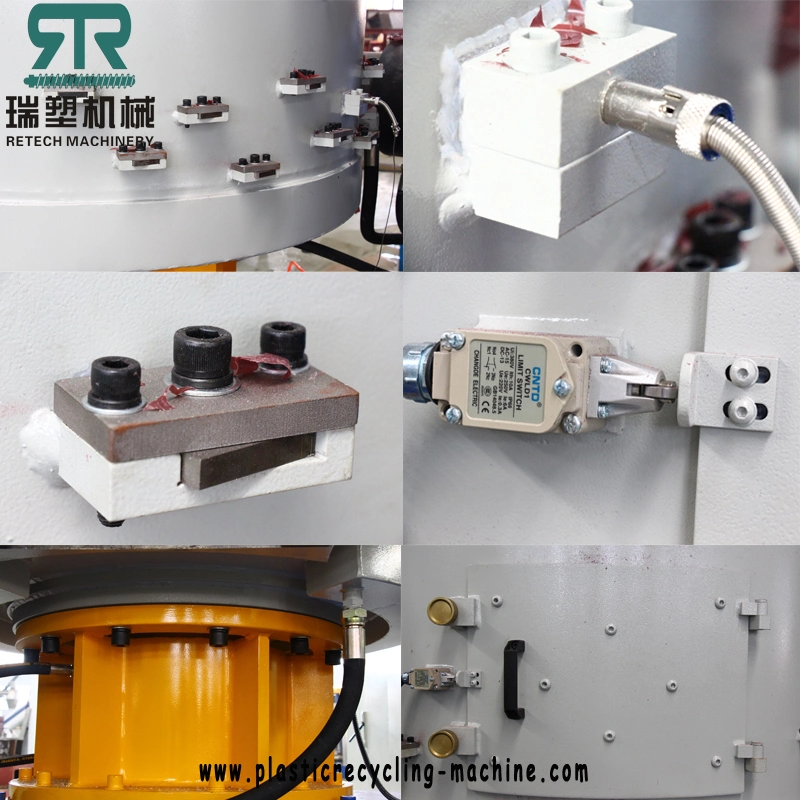 * How to choose one stage or two stages?

The two stage plastic recycling granulator is designed to work with washed, post-consumer and used agricultural film. The cutter compactor, which generates frictional heat during the compacting process, helps to further dry and remove the water moisture from the washed film flakes (processed first by the washing lines). The recycled pellets can be used again in extrusion process, whether 100% (such as garbage bag, LDPE pipe production and etc) or as part of the mixture to reduce raw material cost. The pellets quality can also be improved by direct dosing of masterbatch and additives.
The one stage recycing granulator is designed to work with clean film, such as leftover films.
*Models:
| | | | | |
| --- | --- | --- | --- | --- |
| Models | Screw diameter | L/D | PP | PE |
| RS85 | 85mm | 33:1 | 160kg/h | 200kg/h |
| RS100 | 100mm | 33:1 | 250kg/h | 300kg/h |
| RS130 | 130mm | 30:1 | 380kg/h | 500kg/h |
| RS160 | 160mm | 28:1 | 550kg/h | 700kg/h |
* In order to fit your requirements and provide you a proper quotation, please advise:
• What material do you want to recycling? PE film? PP woven bag? HDPE/PP bottle? or other plastic?
• What capacity(kg/h) do you want to get?
• What is the next step for using the pellets?
• Other special requirements about the PE plastic pelletizing machine you want.
* Our service:
&Before-sale
• Introduce products in detail
• Recommend suitable solution
• Offer test

&During manufacturing
• Provide layout and engineering conditions
• Offer screw plan and related documents
• Inform the project processing status
• Insure the product designed in accordance with technical document

&After-sale
• Provide installation, commissioning and training
• Offer spare parts
• Provide necessary technical support and update information
***We loyal to quality and reputation***
Please contact us for getting more:
Zhangjiagang Retech Machinery Co.,Ltd
Contact person:Mr.Tony