PLC Control Fertilizer Powder Packing Machine Fertilizer Equipment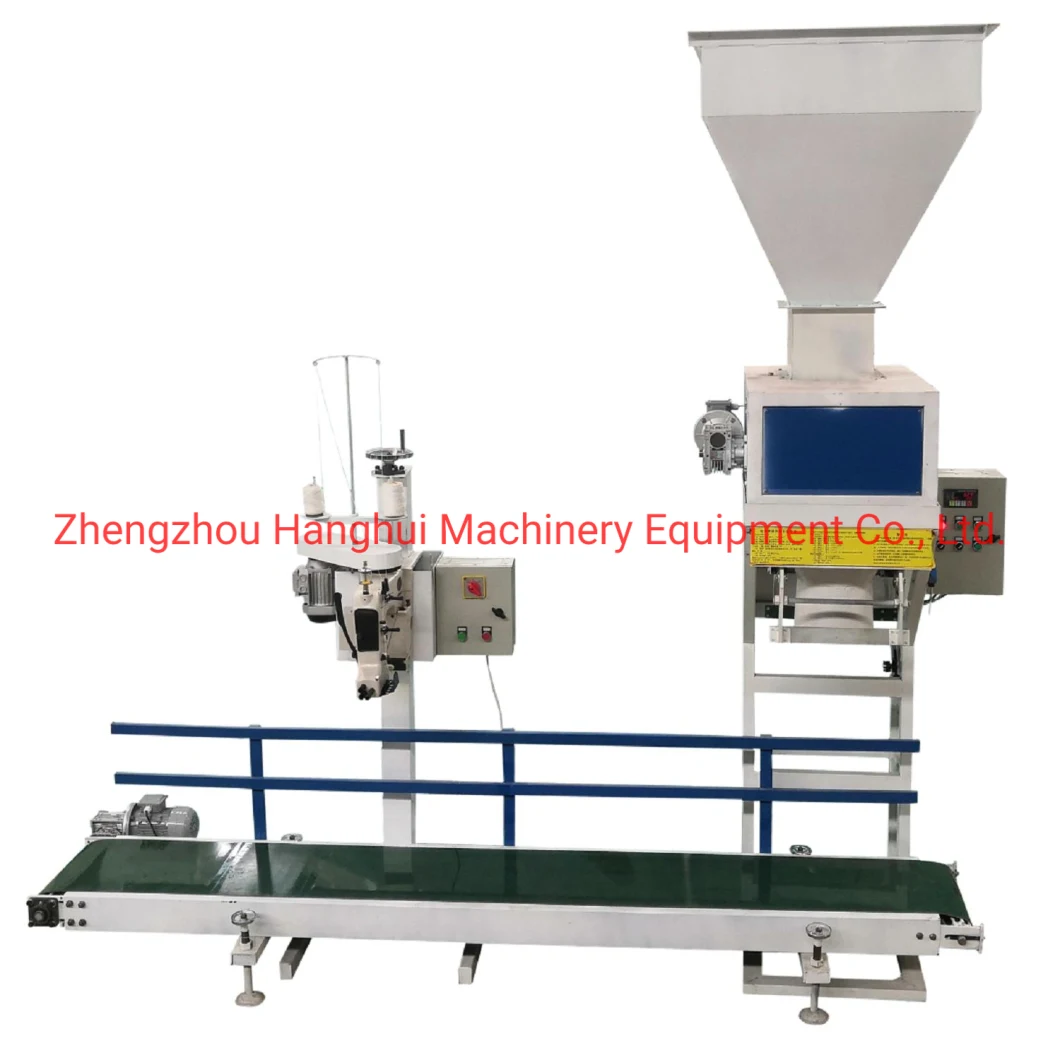 This machine is controlled
by computerized instrument and easy to operate & manage. For example, weighing packing 25kg, you just need to input it 25kg as the target weight and manually place the ready bag to the outlet of the machine, then the automatic clamping device will clamp the bag close to the body of outlet. And the machine will automatic weighing and filling 25kg, then, automatic unloading the bag. Then, the belt conveyor will transport the filled bags to the sewing machine for stitching the bag top.
| | | | | | |
| --- | --- | --- | --- | --- | --- |
| Type | Weighing range(kg) | Output(bag/h) | Power supply | Gas supply(Mpa) | Accuracy |
| F50F | 10-50/bag | 180-260 | 0.92kw | 0.4-0.6 | Grade 0.2 |
PLC Control Fertilizer Powder Packing Machine Fertilizer Equipment
Certified with ISO9001 quality management system and CE certificate, Zhengzhou Hanghui Machinery Co., Ltd is the forerunner and expert among the fertilizer and Animal feed machinery manufacturers in Henan Province, China.
Totally, we have 3 factories, land area over 10 millions cubic meters, with more than 25 technical engineers and 70 workers. Thus we have strong technical strength, high-quality staff and CAD design center, thus we can provide fertilizer and feed plant design, process improvement, equipment manufacture, installation, commissioning, formula and etc. Since 2009, we have exported the machines to more than 100 countries.
By the end of 2019, we have established more than 70 factories around the world, for example, 100,000Ton/Year NPK Fertilizer plant in SA, 150,000Ton/Year NPK Fertilizer plant in Syria, 80,000Ton/Year NPK Fertilizer plant in Zimbabwe, 50,000Ton/Year Organic Fertilizer plant in Nepal, 5,000Ton/Year Powder Organic Fertilizer plant in Nepal, 20,00Ton/Year Organic Granule Fertilizer plant in Nepal, 10,000Ton/Year chicken feed plant in Nigeria, 20,000Ton/Year Floating fish feed plant in Nigeria, 20,000Ton/Year Fish feed Plant in Iran, 5,000Ton/Year Floating fish feed plant in Congo, 10,000Ton/Year Bio-pellet plant in Vietnam, 80,000Ton/Year feed-pellet plant in Thailand, 50,000Ton/Year Bio-pellet Plant in USA, 30,000Ton/Year Bio-pellet Plant in Bulgaria etc.
Based on the professional maintenance team, adequate inventory spare parts, standardized after-sales service, perfect customer return visit management, mature training system, we always win most customers around the world.
We are experienced in manufacturing professional equipment for fertilizer and feed production. As for manage principles, we insist to hold the view of "quality, mission, and values."
·Quality
Being a large and professional machinery manufacturer, our factory has manufactured a series of modern specified equipment for fertilizer and feed production, including both the equipment for each process of the production line and the whole production line. Our equipment adopts the latest technology, which can make the production process more environment friendly, energy-saving and economic. Most importantly, it can ensure the quality of the final fertilizer and feed products.
·Mission
Our factory is featured with its strong technical powers, complete processing equipment and reasonable management principles. Our products are various and complete, including the fertilizer compost turner machine, crusher, mixer, fertilizer granulation machine, polishing machine, dryer, cooler, rotary sieve, coating machine, packaging machine as well as the complete new-type fertilizer production line for both organic fertilizer and compound fertilizer production. For the feed industry, we can offer you the hammer mill, Mixer, flat die/ring die pellet mill, feed extruder, air cooler, packager, and other related machines.
We aim at providing you with a more scientific and efficient way of producing qualified fertilizer and nice feed.
·Values
We always insist that quality and customers should come first. Therefore, we strive every effort to improve our services and make breakthroughs step by step, which in turn will make our products better meet the needs of our customers and improve our competitiveness in the fertilizer market all over the world.
Your satisfactions are all that we pursuit! Contact us if you are interested in our products. We are honored to provide you with any service.
·Service
Pre-sale service
Act as a good adviser and assistant of clients to enable them get rich and generous returns on their investments.
1. Introduce the product to the customer in detail, answer the question raised by customer carefully;
2.Make plans for choice according to the needs and special requirements of users in different sectors;
3. We have certain machines in lab for customer testing.
Sale service
1. Ensure product with high quality and pre-commissioning before delivery;
2. Delivery on time;
3.Provide full set of documents as customer's requirements.
After-sale service
Provide considerate services to minimize clients' worries.
1.Assist clients to prepare for the first construction scheme;
2.Install and debug the equipment;
3.Train the first-line operators;
4. Examine the equipment;
5.Take initiative to eliminate the troubles rapidly;
6.Provide technical support;
7.Establish long-term and friendly relationship.
Service commitment
1. Provide clients one-year warranty to make sure the machine work well;
2.We always keep certain inventory level of spare parts, which means the replacements can be sent to you timely.
·Contact
If you want to win, please come and visit Hanghui.
If you want to learn, also please come and visit Hanghui.
PLC Control Fertilizer Powder Packing Machine Fertilizer Equipment